The Mount Vernon Trail, a facility of the National Park Service, is well known to cyclists, runners, and walkers in the DC area. It extends from Theodore Roosevelt Island in the north to George Washington's Mount Vernon Estate in the south. Beyond Mount Vernon, there are trails of a sort but they come and go for three miles along the two-lane Mount Vernon Memorial Highway to US 1 where new trails continue south down through Fort Belvoir. (The mega re-design of US 1 to the north of Fort Belvoir will include separated bike lanes. ) The Fairfax County Department of Transportation is planning to connect the existing trail segments along the MVMH to provide a continuous trail that connects Mount Vernon to US 1.
Last night I attended the first public meeting about this project. It was run by Chris Wells, the Fairfax County Bicycle and Pedestrian Coordinator with significant additional remarks by Dan Storck, the Mount Vernon District Supervisor.
Beyond its local significance the Mount Vernon Trail is part of other much longer trail systems, including the Adventure Cycling Association's Atlantic Coast Route, the East Coast Greenway, and the Potomac Heritage National Scenic Trail.
The project is an admirable one, but it has significant shortcomings.
The Mount Vernon Trail itself stops at the southern end of a parking lot. To continue south cyclists have two options. They can walk the sidewalk in front of the entrance to Mount Vernon or ride (illegally) on the George Washington Memorial Highway for a few hundred yards. Neither of these shortcomings is addressed in this project.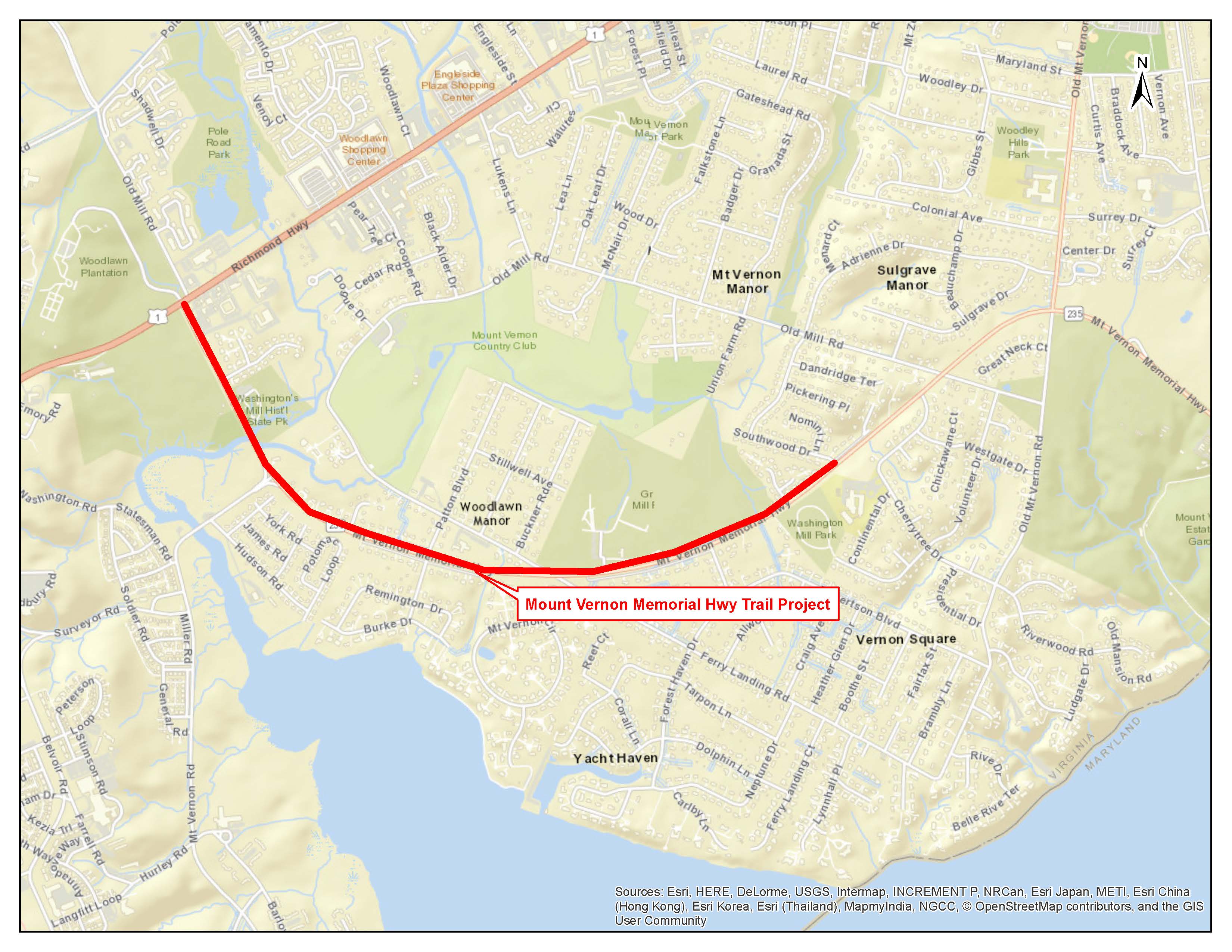 The GW Parkway ends at Mount Vernon. To continue south, travelers use the MVMH. At this point a new-ish side path exists for about 1/2 mile to a traffic light at Old Mount Vernon Road. After the light, there is an old, narrow asphalt path that is in lousy shape with tree roots and debris. After a few hundred yards that path ends and path users need to cross the MVMH to get to another similarly decrepit path along the MVMH. This path has the added feature of a series of abrupt ups and downs. This path segment ends after about 1/4 mile at Southwood Drive. Local residents report that these three parts of the trail are virtually impossible to ride on a bike and in such poor condition that even running is problematic. Unfortunately, improvements to or realignment of these side paths are not included in the project scope.
The first of the proposed new segments would begin on the opposite side of the MVMH from this last bit of path. It would continue only a few hundred yards to another existing side path that extends from Peartree Landing (a neighborhood street) to the entrance to Grist Mill Park, which contains soccer fields, a large playground, and the area's free mulch collection. This existing segment is wider and newer than the others describe above. Nevertheless, the local residents I talked with said this segment also has problems with tree roots.
Beyond Grist Mill Park a new trail segment is planned that will cross the southern end of Old Mill Road until it reconnects with a little used, existing frontage road. After the frontage road, the new trail will begin again and cross Dogue Creek on a new steel and concrete bridge.
After Washington's Grist Mill, the new trail segments will end. Those wishing to continue south on a trail will have to re-cross the MVMH to connect with a new existing trail that continues a couple of hundred yards to US 1.
The project plans include wayfaring signs, as well as improved crosswalks and bus stops.
The project team's consultants were in attendance. Maps of the project were on easels for review. There were about 40 – 50 people in attendance. Considering the fact that this was a preliminary meeting, this was an impressive turnout. Attendees included people who live along the project corridor and others, like me, who use the corridor for cycling.
Concerns raised included:
The design of the Dogue Creek bridge. It will be steel and concrete which will hopefully lessen the crashes that are endemic to the Mount Vernon Trail's wooden bridges.
Crossing the MVMH is dangerous now. Recently, a 15-year old runner was hit by two cars as she crossed the road. (She lived but is in for a long recovery.) Attendees asked for traffic signals of some sort and consideration of sight lines when positioning cross walks.
Local residents say that traffic has increased significantly since the military base re-alignment moved thousands of personnel to Fort Belvoir. The residents say that the 45 miles-per-hour speed limit is too high considering the highway traverses a residential area. This is clearly one of those places were Virginia DOT prioritizes moving commuters over residential users.
Local residents also decried the condition of the decrepit existing trail segments.
The crossing at Old Mill Road is a potential problem. Local residents cut through a neighborhood and a wooded perimeter area to access the park now to avoid this intersection.
Drainage is a problem now for one resident whose home abuts a new trail segment.
The trail right of way could be 20 to 30+ feet depending on the type of drainage used at the highway's edge. One resident noted that his driveway is only 40 feet long.
Residents clearly would prefer to limit the trail to one side of the highway.
Trees will have to be removed to accommodate the new trail assuming it stays in its current alignment.
The next step is for the project team to do a detailed analysis of the corridor and produce a preliminary design for public comment. That process will take six to nine months.
As readers of this blog know, I do not much enjoy doing bike advocacy work, but I have to say that this meeting was actually fun. There was concern without anxiety on the parts of the attendees. I think they had plenty of time to have their say. Chris Wells and Dan Storck did a great job of listening and making thoughtful observations. Project team members and Dan Storck were taking notes. With projects like these the old saying "The devil's in the details" holds.
As for me, I was encouraged to see that Chris has picked up where Adam Lind (currently cavorting in Santiago, Chile) left off as Bike/Ped coordinator. This was my first interaction with Dan Storck. My district supervisor is an avid cyclist. Obviously, he has to take into consideration all users and constituents but it is a great relief to know that he speaks my language.
As for me, I doubt I will use the new trail. I don't use any of the existing trails segments. I am comfortable in the road, but I understand that others, most importantly the people in the adjacent neighborhoods, are not. I also doubt bicycle tourists, experienced recreational riders, and commuters will want to meander back and forth across the highway. However, the project clearly addresses many existing shortcomings for walkers and runners and less experienced cyclists.
Finally, I did get a chance to talk to Dan Storck about his annual Tour of Mount Vernon bike ride. When I first heard about it, I thought is was a dinky neighborhood ride. Wrong. It's the real deal at 36 miles and he's very excited that it's catching on after only a couple of years. I didn't ride it last year because I was already committed to WABA's 4th Annual Cider Ride. Hopefully, this year WABA and Supervisor Storck can coordinate dates so I can do both.