There is an old saying in baseball: you win some, you lose some, and some get rained out.
This is a story about losing, getting rained out, and winning. Leave it to me to get things totally out of sequence.
About two years ago the Red Sox were scheduled to play an exhibition game versus the Nationals at Nationals Park to mark the end of Spring training. I managed to get one of four tickets that one of my co-worker's bought.
Losing
As I typically do, I set out on by bike for the ballpark. It was raining. I got about five miles from home when, heading northbound, I was hit by a black SUV on the Mount Vernon Trail. (There goes the no hitter.) The SUV was exiting a condominium complex and failed to stop before making a right on red. To this day I am shocked that I managed to escape from this encounter with only some bruises.
Getting Rained Out
A short time after the crash, I was informed by the Twitter that the game was rained out.
Winning
Fast forward 22 months. I am riding southbound on the trail to the exact place where I was hit. There, blocking the entire trail, was a white SUV. I came to a stop and shouted at the driver. "Why are you here? Why are you blocking the trail?" The driver looked at me as if to say "So what." Then, before I could ride around the front of the vehicle, the driver took off, taking a right turn on red.
I had seen this behavior dozens of times and I finally decided to ask the city of Alexandria to do something about it. I wrote them a short note requesting a change to a sign. Drivers leaving the condo complex at this intersection face a traffic light with a sign that says "No Turn on Red when Pedestrians Are Present." I asked that the city to replace it with a sign that says "No Turn on Red." I deliberately kept my request simple thinking it would avoid getting bogged down in analysis and budgetary considerations.
I had no idea that there was an Alexandria City Traffic and Parking Board. My note was referred to them and the issue was placed on the February meeting agenda. My friend Erin Meter provided a statement on behalf of the Friends of Mount Vernon Trail. Her statement, and that of Zack DesJardins, went into details about traffic signal timing, signal delays, best practices on signage and traffic lights and the like. (Judd Lumberjack came and offered moral support.) Erin and Zack did some serious homework on this.
Two representatives of the condo complex spoke. One had several pictures of the scene. (I was half expecting him to talk about the circle and arrows and the paragraph on the back of each one. But I digress.) Finally, I gave a brief statement. (The order was not for dramatic effect. It's just that I arrived last.)
I explained how I was hit. And that I see the trail obstructed on a regular basis which is obviously dangerous.
The Board then voted unanimously to change the sign and to study the signal and signage issues.
I couldn't believe it. I actually had to ask Erin if we won.
We won.
A tip of the cap
Many thanks to Christine Mayeur, Alexandria's Complete Streets Coordinator, for encouraging me to show up and give a statement.
And to Erin, Zack, and Judd for thoughtful statements, support, and photography,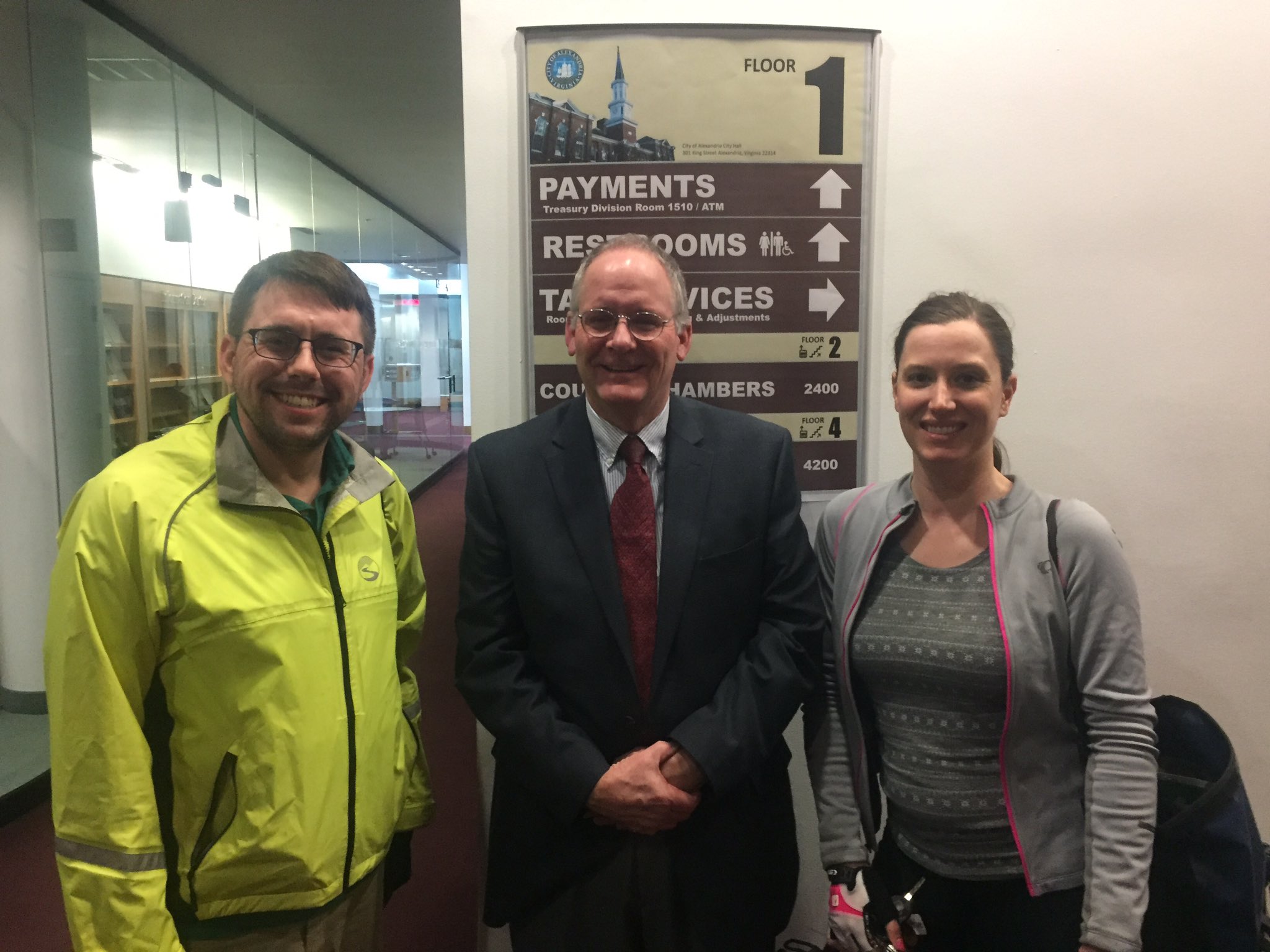 P. S. Teddy Ballgame would not have approved. I put on a tie and nobody died or got married.